What Plan Is Right For You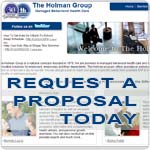 Select a Holman Plan for your company now, because it is easy. Simply have your insurance broker or human resources representative call Elizabeth Holman, MBA at (800) 321-2843 for a proposal. She will work with you on creating a plan that will meet your company needs and budget. You are also welcome to fax or e-mail Holman for a proposal request form.

I would like to request a proposal (Secure Area)
Following are some of the services offered by The Holman Group:
Managed Behavioral Health Care Plans (ASO or Fully Insured. Plan designs can be created to meet your specific needs and budget).
Employee Assistance Programs (EAP is the foundation of each Holman plan).
Specialized Care Management and Utilization Review.
Critical Incident Stress Management Programs, CISM.
Organizational Development Consulting Seminars.
Please call us at (800) 321-2843.